| | |
| --- | --- |
| | Custom Search |
Problem:
How can I have make Windows automatically dial into the Internet when I launch my browser?
Versions:
Windows 95/98/ME/NT 4.0/2000/XP
Solution:
If you have Internet Explorer 4.x or higher installed, you can setup the auto-dial feature by following these steps...
Click on the Start button
Highlight Settings in the start menu
Click on Control Panel
Double-click on the Internet Options icon
Click on the Connections tab
Click "Always dial my default connection"
If you need to change your default connection, highlight the connection and press the Set Default button.
Click the OK button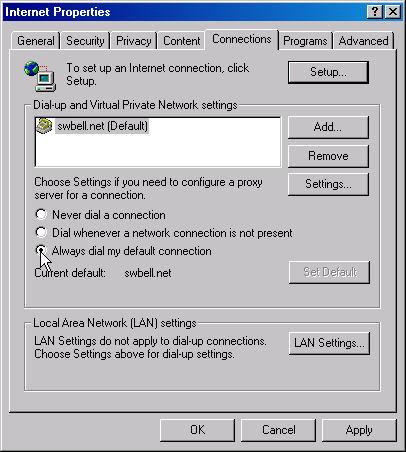 If you do not have IE 4.x or later installed, you can download this auto-dial program and run it to activate the feature.